Disclaimer: As an affiliate I may earn a commission on any qualifying purchases, including those from Amazon.com, at no extra cost to you – read more.
Eagles Nest Outfitters (ENO) are one of the most popular hammock brands for amateur hammock campers like myself, but do they really live up to the hype?
I purchased their signature ENO SingleNest and have been testing it out for myself both out in the woods and on a stand in my backyard. In this article, I'll share my honest, unbiased review.
Overall Verdict
ENO is my go-to brand when it comes to camping hammocks, they are reliable, the nylon taffeta material is softer and more breathable than alternatives, and it packs down to be very compact thanks to the compression strap. If you're looking for a good quality single-width camping hammock, the ENO SingleNest is my top pick.
However, I find single-width hammocks to be too narrow for my personal preference as I like the extra material to find a comfortable position, even when sleeping alone.
A double hammock allows this extra room and provides additional space for a top quilt when camping in colder weather. For this reason, I'd recommend the ENO DoubleNest as a better alternative if you don't mind the extra weight/space it takes up.
PRODUCT
DETAILS
 
ENO SingleNest Hammock

Nylon taffeta is silky and breathable
Made to a high standard with aluminium carabiner and nautical rope sling
Packs into attached stuff sack with compression straps
ENO SingleNest Review
Who Are ENO?
Eagles Nest Outfitters (Known as ENO) are an American brand based in Asheville, NC. This is their headquarters where all of their products are designed, although it's not clear if they are manufacturers in the USA or not.
One thing I love about the brand is that they try to be sustainable. They are a member of 1% for the planet which means they donate 1% of their annual revenue to non-profits, and they also partner with Trees for the Future to plant two trees for every hammock sold.
---
What's Included?
The only thing included was the hammock itself which already had carabiners attached to each end. There were no straps included as with most camping hammocks so I had to purchase these separately.
There are 14 different color combinations to choose from, each made up of two different colors. I'm not too concerned about color so I opted for the navy/royal blue combo as it was the cheapest at the time of purchase. The colors are super vibrant and look even better in real life than they do in the photos.
I was impressed that the hammock didn't arrive with any excess packaging as most other hammocks I have purchased arrive in multiple layers of single-use plastic.
---
Comfort
The ENO SingleNest is made from 70D nylon taffeta. Nylon is a popular choice for camping hammocks as it has a great strength-to-weight ratio and is very resistant to mold and mildew. It also has a slight stretch which makes it slightly more comfortable for hammocks than polyester, although it's still not as cozy as a cotton hammock.
The taffeta in the nylon gives it a silky feel whilst still being very breathable which is also important in summer or warm weather to make sure that you don't get super sweaty.
Nylon taffeta a lightweight material which results in one of the lightest camping hammocks on the market (excluding the specialist ultralight hammocks). Of all the camping hammocks I've tried to date, the material used in the ENO is my favorite so far.
However, I did feel that the SingleNest was too narrow. I measured it to be 53" at the widest point (compared to the advertised 55") and it's just not enough room to get comfortable.  I'm not a big fan of one-person hammocks in general and usually opt for a double hammock instead of a single, even when sleeping alone. I'd recommend the ENO DoubleNest as a better alternative.
---
Durability
As well as using a strong material to make the hammock, it has been made to a high standard too. It is triple stitched throughout with no visible fraying or tears after using it.
The sling that pulls the ends together is made from a nautical nylon rope material which is far more durable than competitors which tend to use nylon straps instead. The rope feels far more secure and I don't ever worry that the hammock will break.
ENO make their own carabiners too which are included with the hammock. The carabiners are high quality, made from aluminum wiregate which is how they weigh less than 0.6oz each whilst still being very strong. Again, there is a feel of quality compared to the cheap steel carabiners that are included with other brands.
The hammock has a 400lb weight capacity as do each of the carabiners so you'll have no worries about it not being strong enough. The weight rating on the SingleNest is the same as their DoubleNest.
As with all ENO products, the SingleNest comes with a two-year warranty from the date you purchase it. This is above average and shows that they have faith in the production quality of their products.
---
Portability
The entire hammock folds away into the attached stuff sack that also doubles up as a pocket when the hammock is in use.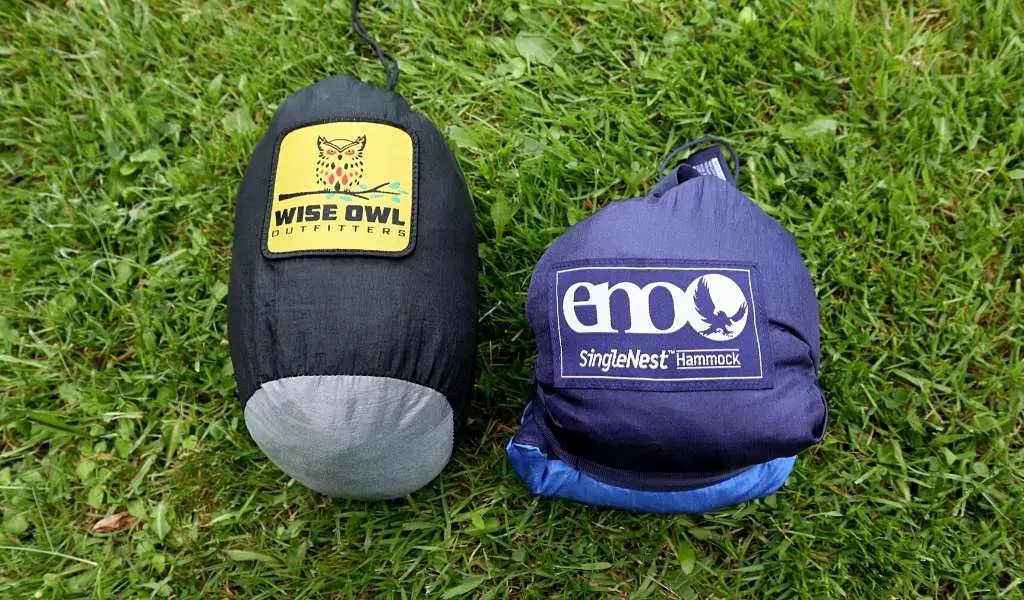 Once you have packed it into the sack, there's an additional strap with a plastic clip that is used to further compress the hammock. This allows you to make it super compact so it can fit snuggly in your backpack which is ideal where space is a key concern. In the above image, you can see how compact it is next to my Wise Owl single hammock.
As for weight, the hammock came in at just over 15oz when I weighed it. This is about average compared to my other camping hammocks and suitable for most amateur hammock campers like myself.
If you're a pro and weight is of the utmost importance, you might want to consider a specialist ultralight hammock such as ENO's Sub6 that weighs just 5.8oz. These will minimize the amount of weight and space occupied by the hammock which is ideal for long treks like the Appalachian Trail.
---
Ease of Use
When it comes to setting up, the hammock was very easy. The carabiners were already attached so it was just a case of unfolding it and hanging to my straps (these aren't included).
I like to leave the carabiner hanging out of the stuff sack when packed away so that I can hang it onto the outside of my backpack. This also makes it very easy to set up as you can attach the first carabiner before unfolding the hammock.
I have mentioned the stuff sack earlier that doubles up as a pocket. The pocket is about 6" x 8" and easily large enough to fit your wallet, phone, and a pocket knife so that they are easily accessible.
The hammock claims to be quick drying so I put it to the test by soaking it in water and seeing how long it takes to dry. In total, it took around 30 minutes to dry, this was slightly longer than some other camping hammocks as the thick rope used around the sling took a little more time.
---
Conclusion
After putting the ENO SingleNest hammock to the test, I think it's a great product and would happily recommend it to anyone looking for a single hammock. The material is silky and breathable, it has been made to a high standard, and the compression strap makes it very compact when packed away.
The quality is particularly visible at the end of the hammock with the strong nautical rope and the lightweight aluminum wiregate which make it very tough.
The only downside is the price as it costs more than competitors like Wise Owl, despite not coming with any straps included.
---
Are There Any Cheaper Alternatives?
If you couldn't tell by now, I think ENO are some of the best hammocks on the market. However, they aren't the cheapest so you might be wondering if there are any budget-friendly options. A popular alternative to ENO is Wise Owl Outfitters which costs less and comes with straps included so you're getting better value.
The design of the Wise Owl SingleOwl is very similar to ENO's SingleNest, made from fast-drying nylon with triple stitching. If you're just starting out, there's no reason why you couldn't opt for this instead.
However, you will have to compromise on some things such as the softness and breathability of the fabric and the quality of the included carabiners. See my full ENO vs Wise Owl review for a full breakdown of the differences.
---
Related Questions
What's the best stand for an ENO hammock?
The best stand for the ENO hammocks is the SoloPod. This has been created by ENO with their SingleNest and DoubleNest in mind so you can be sure there's a great fit with no risk of excess sag and you wind up on the floor.
However, the SoloPod is a little expensive. I actually have mine set up on a Vivere Space Saving Stand and it works a treat. Although not designed for camping hammocks, I've adjusted the position of the hooks to get an optimum position so I can relax in my backyard.
---
What's the best underquilt for an ENO hammock?
I recommend the ENO Vulcan as the best underquilt for the ENO SingleNest. It is rated for four seasons so you can use it year-round and it's a reasonable price compared to the rest of the market due to a synthetic filling rather than down. It has been sized perfectly to fit ENO hammocks and is very easy to position by tightening or loosening the cords.